Sponsors
The action group Gaslicht ist Berlin thanks its sponsors and supporters.
ImmobilienScout24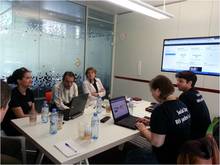 As part of their annual 'Social Days' in July 2012, the company provided us with a free day-long consultation by several of their employees. They helped us to improve our external communication by advising us on the design of our professional website Berlin Light.
ImmobilienScout24 is one of Europe's largest real estate websites. The company was founded 15 years ago and has been located in Berlin ever since. ImmobilienScout24 has approx. 600 employees. The company has won the award of "Germany's Best Employer 2013".
Due to the contact through ImmoScout24 we began our work with e-pixler.