Gaslight tours
Our gaslight tours take you to Berlin's most beautiful gas lit streets and squares. more »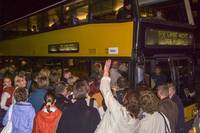 image: Gaslicht Kultur e.V.
[Bitte nach "Englisch" übersetzen:]
Every night more than half the world's existing gas street lamps illuminate the streets of Berlin. Gas street lighting was introduced to the city in the early 19th century. Ever since then, gas street lamps have been integral to Berlin's cityscape. Thus, the gas street lamps in their various historical designs constitute a significant industrial and artistic monument.
Nevertheless, the Berlin Senate is moving to eliminate Berlin's gas street lighting. The Senate's street lighting plan Lichtkonzept rates gas street lighting as economically and environmentally untenable. Therefore, almost all of Berlin's gas street lamps face replacement and demolition.
We want to save them!
The translation of the German text of this website was made possible by the engaged work of Leonie Dix for which the responsible associations thank her very much.
Media
Latest media coverage and press archive