Sponsors
The action group Gaslicht ist Berlin thanks its sponsors and supporters.
Europa Nostra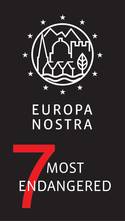 Europa Nostra represents a rapidly growing citizens' movement for the safeguarding of Europe's cultural and natural heritage. This pan-European network is composed of 250 member organisations (heritage associations and foundations with a combined membership of more than 5 million people), 150 associated organisations (governmental bodies, local authorities and corporations) and also 1500 individual members who directly support Europa Nostra's mission. Together, these form an important lobby for cultural heritage in Europe. Additionally, Europa Nostra celebrates excellence through the European Heritage Awards organised by Europa Nostra in partnership with the European Union. Moreover, Europa Nostra campaigns to save Europe's endangered historic monuments, sites and cultural landscapes.
In 2013 Europa Nostra together with the European Investment Bank Institute developed a project for an annual list of the "7 most endangered Historical Sites in Europe". The nomination of Berlin's gas street lamps for this list was the only one in the final round from Germany in 2013.
Moreover, in February 2012 Europa Nostra wrote to Berlin's Mayor asking him to postpone the imminent demolition of Berlin's gas street lamps.
Contact details:
International Secretariat Lange Voorhout 35
NL - 2514 EC The Hague

T +31 (0) 70 302 40 50
F +31 (0) 70 361 78 65
E info [at] europanostra.org
German Office:
c/o Europäisches Burgeninstitut
Schlossstraße 5 56338 Braubach
T +49 (0) 2627 / 97 41 56
F +49 (0) 2627 / 97 03 94
www.europanostra.de